After my years in the classroom, I learned very quickly that in order to teach effective small groups, you have to be organized. Read on to learn how to use a guided math binder to maximize your efficiency and your time in the classroom!
When it comes to being organized, I'll admit, I'm not the best person to take advice from. I love a good color-coded system, but let's be real, I'm actually pretty type B.
When I started teaching guided math in small groups, I knew that my stacks of papers and sticky notes were not going to cut it.
I didn't feel prepared and was wasting so much time looking for my notes, lesson plans, and materials. That was cutting down on my instructional time, but it also lead to more chaos and disruption in the classroom.
I quickly realized that I needed something to keep my small group materials organized. I needed a centralized location that would be easy for me to maintain and be consistent with.
My guided math binder quickly became my go-to for getting my organizational act together. It was a complete game-changer for my small group instruction!
In this blog post, I'll share with you exactly how to set up your guided math binder and personalize it to meet your needs.
What Is A Guided Math Binder?
You may be wondering what a guided math binder is and what sets it apart from all of the other organizational tricks you've seen.
I can honestly say that my guided math binder is my saving grace when it comes to small group organization.
A guided math binder is a place to store and organize everything you need to teach math small groups effectively.
It holds your lesson plans, small group student lists, student notes, observations, data, and more. All of your materials and plans are in one centralized location that you can easily access at any time.
I recommend using a 2-inch binder for your guided math binder. This may look like a lot of room at the beginning of the year. Remember though, you'll add to this binder all year long. Therefore, you'll want plenty of room for it to grow with you.
I also love this guided math binder because it correlates with and matches my math station rotation board. That way, everything I need for my math stations is organized by the same themes as my rotation board in my binder.
What Is Included In A Guided Math Binder?
The beauty of using a guided math binder is that you can set it up however you want to meet the needs of you and your classroom. You can switch up the sections, use all of the sections, or leave sections out. It's totally up to you!
My guided math binder comes with organizational tabs to help you stay organized and customize your binder. I like to glue the section pages onto the front of plain binder dividers. Then, I glue the section tabs on the sides for easy access.
Plus, just like the guided math framework can be used with any curriculum, so can this guided math binder.
The Guided Math Groups Section
The first section in my guided math binder is the guided math groups section. I have included several different organizers and templates for you to choose from to customize this section.
There are pages to help you organize each group that matches the groups on the rotation board. There are organizers based on groups of 3, 4, 5, and 6 students. Each group has its own section of pages for student notes, observations, and data.
I like to use sticky note tabs to write student names on so they can easily be moved around when needed from group to group.
This saves a ton of time and copies rather than printing new small group section pages all the time. Your small groups are always fluid and changing, so this makes it easy to move students around.
The Observations Section
The next section is the observations section. This is a great place to track and store all of your student observations and notes. You can record student strengths, weaknesses, concerns, and ideas on the full or half page sheet options included.
There are also parent-teacher conference information sheets included to help you organize student strengths, concerns, and notes.
This makes planning for conferences and discussing each student much easier and more effective. With all of your observations right there at your fingertips, you can go into conferences with confidence.
The Planning Section
The planning section of the guided math binder is where you can truly get yourself organized for each week and month of the year! There are month-at-a-glance and week-at-a-glance lesson planning pages included.
You can choose from a variety of templates to find what works best for you and your brain. You can use the monthly planning pages to write down the concepts and skills you'll be working on.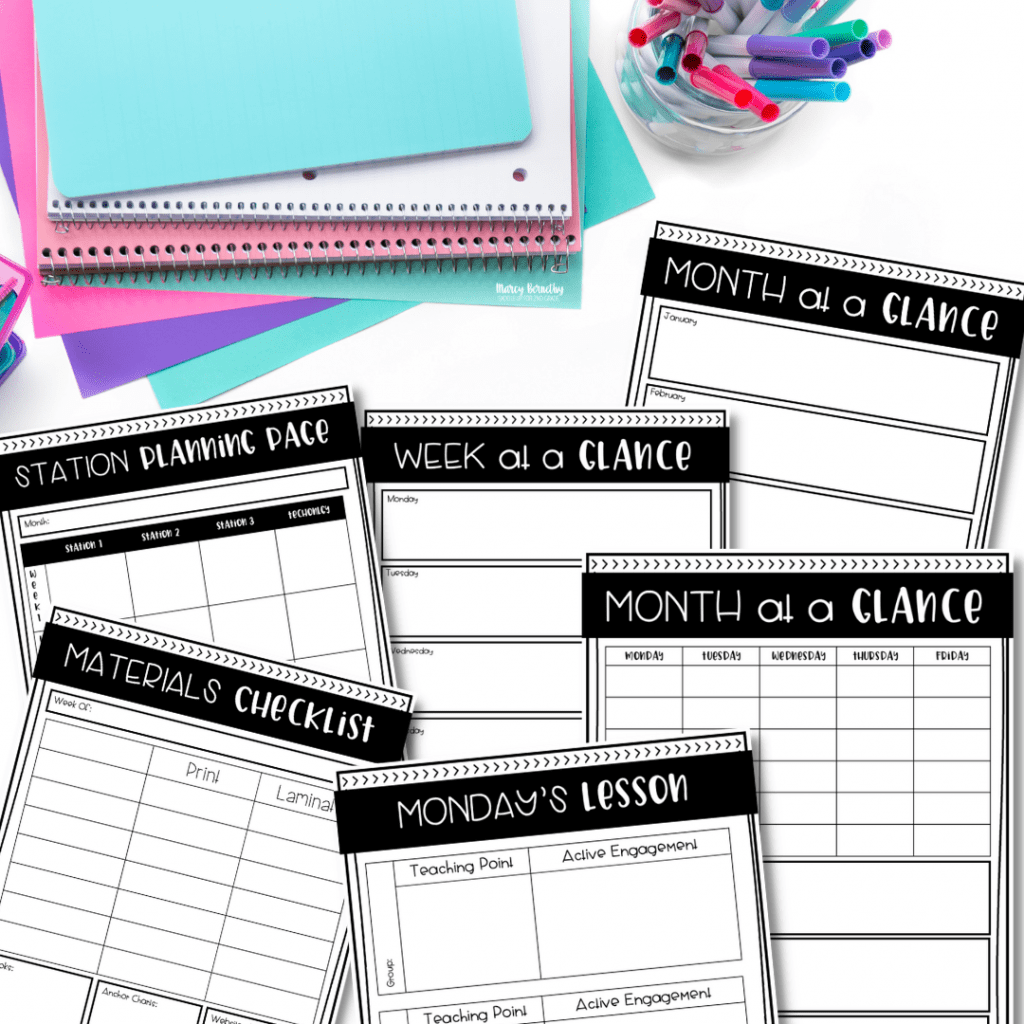 The weekly planning pages are great for adding any specific notes or concepts you want to cover on the various days throughout the week. You can even add in goals, to-do list items, notes, or activity ideas on these planning pages.
There are also math station planning pages included in this section. This is probably my favorite part of the entire binder!
It makes it so easy to map out your math stations at a glance and write down the activities you will be putting into your math stations each week. The best part is, you can look back each year and see which activities you used previously.
If something works great, be sure to note it for next time! Need to make a tweak? Make note of it! Did the activity you used end up being a total hot-mess? Write it down so you know not to do it again!
There is also a materials checklist included for keeping track of what you are going to need to set up your math stations each month, what needs to be printed, laminated, etc.
This will help you get prepped ahead of time instead of scrambling while your students are staring at you waiting for directions.
The Lesson Plans Section
In this section, there are several blank copies of my small group lesson planning template. I keep my small group lesson plans in a very simple format. This makes it easy to glance at and see exactly what we're doing each day.
I write my group name, the date, and the concept and standards being taught at the top of the planning pages.
There is a section on the template for each day of the week along with a space to record the warm-up, small group activity, and closing for each lesson.
This helps to identify teaching points and what you'll be using for active engagement each day with your students.
The Data Section
Next up is the student data section. This is where you can track all of your student data throughout the year. It is so neat to visit this section and see what your students have mastered so far!
It also holds you accountable as the teacher to actually keeping track of their data and staying up-to-date on the skills your students have mastered and what they need more help and reteaching on.
There is a standards checklist included for you to track the standards your students have mastered.
The data organizer allows you to rate your students on 4 different levels of mastery:
Has mastered and could teach others.
Has mastered.
Beginning to understand.
Does not yet understand.
This helps inform how you split your students into small groups. It's also important to remember that your small groups may look drastically different from concept to concept.
A student who really rocks at addition with regrouping may really struggle with measurement, etc.
The Math Station Rotation Board Section
The last section of the guided math binder correlates with the math station rotation board. This is designed for you to place any notes, lesson plans, or observations that relate to a particular group or student in their designated math station section.
For example, if a student is absent one day and you'd like them to make up the math station activity later that week, you can easily add it to this section for easy access when they return.
At the very back of the binder, I recommend including blank paper for extra notes, scratch paper for students, etc. You never know when you or your students will need it!
I hope this breakdown of how to use a guided math binder has helped you see that organization is possible for you too!
To get a detailed tour of my guided math binder, be sure to check out my YouTube video where I take you inside of my personal guided math binder!
Be sure to pin this post for later so you can get your guided math binder set up and ready to go!