I'm always looking for ways to make my job as a teacher easier and to keep my students and classroom organized. One of the biggest challenges as a primary teacher is keeping all of your students' paperwork organized. Without a good system for student mailboxes, it can become chaotic really fast. In this blog post, I'm sharing a quick classroom organization tip to help you control the paper chaos once and for all. If you're ready, let's talk about one of my favorite DIY classroom mailbox ideas!
This post contains affiliate links. You can see my disclosure here.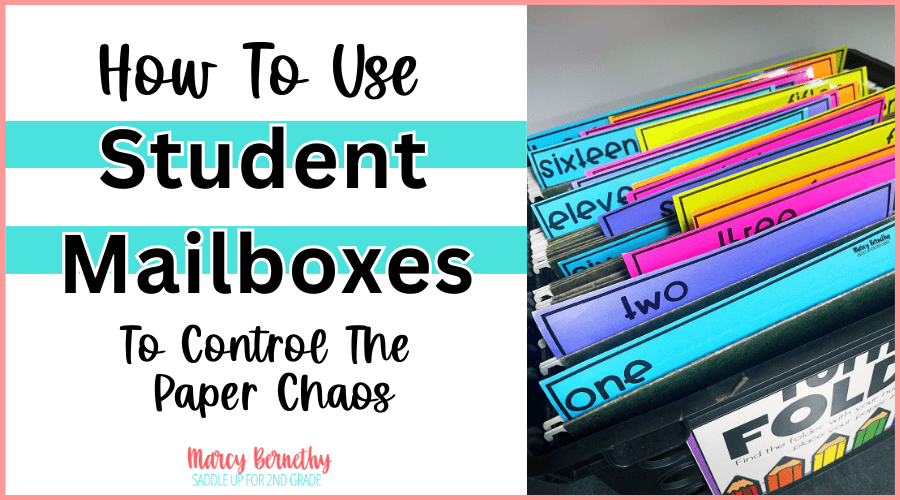 Why You Should Use Student Mailboxes
Using student mailboxes is a simple way to keep all of your students' paperwork organized and contained in one space. This prevents you from having piles of paperwork stacked up on your desk, or worse, spewing out of your students' desks.
Implementing student mailboxes makes it easy to grade, file, and send home paperwork with your students on a regular basis.
My Favorite DIY Classroom Mailboxes
The downside of investing in classroom mailboxes is that they can get expensive. It's for that reason that I've never had a nice set of student mailboxes. Plus, some of the more traditional styles of mailboxes can take up a lot of space in the classroom.
Several years ago, I set out to find a better solution, and that's when I stumbled upon one of my favorite DIY classroom mailbox ideas… crate mailboxes!
This simple classroom organization system cost me less than $15, takes up way less space in my classroom, and hides the paper clutter that can become a huge eyesore.
How To Use Crate Classroom Mailboxes
After searching through several DIY classroom mailbox ideas, I found that the "pick up folder system" using a plastic crate works the best for my classroom setup and organization style.
Instead of traditional classroom mailboxes, I use a plastic crate and hanging file folders to make my own student mailboxes. I use these basic green file folders that way there is no arguing over who has what color.
Each child is assigned a folder with their class number on it. Inside their folder is where homework, graded assignments, notes, and miscellaneous papers go that need to be sent home.
Labeling Student Folders In Student Mailboxes
When I first started using these DIY classroom mailboxes, the one thing I didn't like was that the plastic tags that held the student numbers would easily fall out.
After fixing them multiple times, I got an idea that made my life a lot easier and saved my sanity. I made these number labels on Astrobrights cardstock, laminated them, and taped them to the back of each folder so that my students' numbers would show clearly and never fall out.
This made it so much easier to find each student's folder and add or empty the papers.
Would you like to get these labels to create your own set of pick up folders using the crate student mailbox method? Fill out the form below to have them sent straight to your inbox.
Tips For Using Student Mailboxes
I'm all about teaching independence in 2nd grade. I don't stuff my students' folders for them each day. I did that my first year of teaching and it took up SO MUCH time.
By teaching my students how to stuff and empty their own classroom mailboxes, I've solved this problem and given them more independence and responsibility.
At the end of each day, they grab all of the papers out of their pick up folder and put them in their take-home folder to go home.
This best thing about student mailboxes is that it is mostly student-led. As the year goes on, I'll allow students to place homework and other items in the folders for me. This could even be a classroom job!
I check their folders daily to make sure everyone has cleaned theirs out. Otherwise, the students learn to take care of the rest. These are seriously the EASIEST, most cost-effective and low-maintenance student mailboxes ever!
Share Your DIY Classroom Mailbox Ideas
I'd love to know in the comments what you use for student mailboxes and if you have any other DIY classroom mailbox ideas. Tell us below and be sure to share a picture in our Saddle Up For 2nd Grade Teachers community so other teachers can learn from you too!