I am probably the last person to be giving organizing advice…
My goal this year was the try really hard at being more organized but most of the time I have stacks of papers everywhere and materials all over the place. Its an organized mess is what it is! I can tell you where everything is and that's all that really matters right?!? Today should have been our first day back from spring break but we had a bad weather day so instead of relaxing on my last day off, I headed to my classroom to do some cleaning and organizing. Here is what my teacher area and table looked like when I got there today.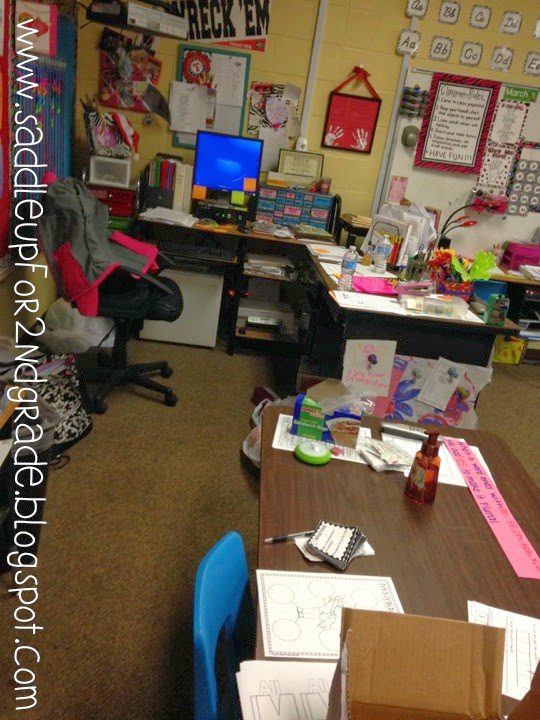 Being in a new district this year means getting use to new curriculum. For reading we just Journey's which was brand new to me. I use resources found on TPT to help supplement. If you use Journey's, you can check out T
he Bubble Blonde Teacher
and
Twirlybird Teaching
. Their resources are fabulous and have been a total life saver for me this year. For each unit we cover, there are task cards and centers for each story to cover the skills we are learning. At first, I was just keeping everything in a manila folder and storing it all in one of my filing cabinets but then it got a little overwhelming. I thought to myself, I'm spending so much time getting all of this together. I want to make sure I don't "lose" any of it for next year. I wanted a way to organize all of my materials so that everything is ready to go for next year. Here is my solution.
I bought these storage containers at Wal-Mart for about $7 a piece. Each container holds all of my materials for one unit. Inside you'll find a file folder with lesson printables and centers to go with each skill being taught. This way I know where everything is and I can easily pull something to review skills as needed.
Hopefully this will help me keep track of everything. If you use Journey's and would like these labels, you can get them by clicking below. I only made labels through unit 4 because I'm not sure if we will get past it or not. Only 10 more weeks of school! I'm providing a PDF file of the labels that were shown above and an editable file you can use if you use a different curriculum or want to add more past unit 4. *Note the font might appear differently in the editable version if you don't have the font I used installed on your computer.
I'm thinking of using this system of a lot of my math concepts too. I hate my filing cabinets. How do you store your file and materials?