As the end of the year draws near, it's important for our students to reflect on what they've learned in the past year and review their skills. However, these reflections aren't just for our students. End of the year reflections for teachers are just as important and set you up for more growth as a teacher. Read on to learn how to improve as a teacher by reflecting on your math instruction.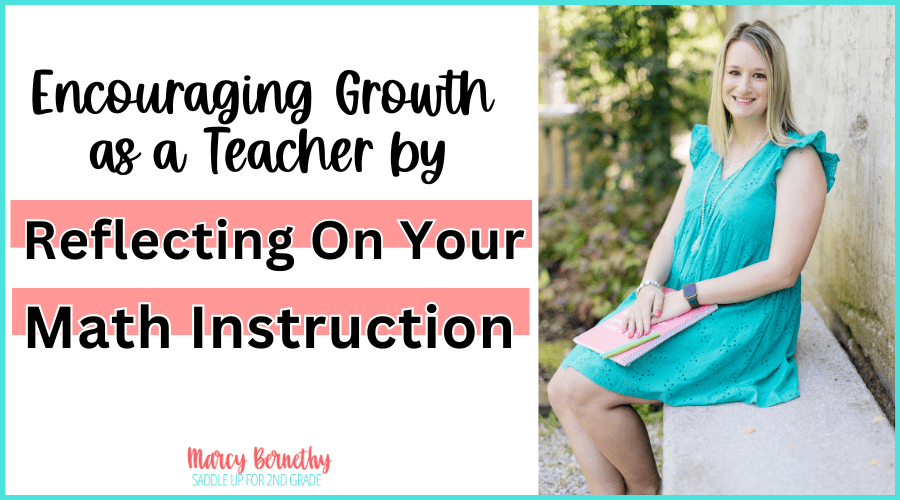 Why It's Important to Reflect On Your Math Instruction
The world of education is constantly changing and so are the needs of our students. As a teacher, it is so important to continuously reflect on your math instruction to determine what is working, what isn't working, and where you can improve and find growth as a teacher.
Maybe this looks like evaluating how your math block is structured, whether or not you feel rushed, how your math centers and classroom management is going, and how engaged your students are in your math lessons.
This knowledge can help you determine what you want to do differently next year and new strategies you want to try. This will help you make a plan to seek the support you need and implement the necessary systems so you can improve your math instruction next year and beyond.
Plus, as teachers, we are lifelong learners. These end of year teacher reflections are vital in helping us determine the areas in which we can seek more growth and improvement.
How to Use Your Teacher Reflections to Improve Your Math Instruction
Your end of year teacher reflections can be used in many ways to improve your math instruction in the upcoming school year and beyond. These reflections are not JUST for figuring out what's going well, what's not, and what you want to try.
In fact, these reflections can actually help you streamline your schedule and get ahead of the game when it comes to prepping, organizing, and setting up systems.
Check out these 4 ways to take action on your teacher reflections to improve your math instruction and your math block as a whole. 
You can also check them out in my YouTube video below.
4 Ways to Take Action On Your End of Year Reflections for Teachers
#1: Evaluate Your Schedule
Your teacher reflections are useful in helping you evaluate your schedule and see where you can make time for guided math and math stations. Look at your schedule and the areas in your day to see how and where you can fit in guided math and the different components of it.
You may have to break it up into chunks if you have a short math block, but that's the beauty of evaluating this at the end of the school year and over the summer… it gives you TIME to figure out a schedule that works for you! If you need more help on this step, check out my FREE Making Time For Guided Math Training!
#2: Prep and Organize
Another way to take action on your teacher reflections is to decide what you want to implement in your math block and start prepping and organizing! Summer is the perfect time to print, cut, laminate, and organize math stations.
It's also a great time to look over your guided math units and organize them into binders so you can easily grab and go during the year. The same goes with organizing your manipulatives and prepping the materials that will go on your math station bulletin board.
A little work up front will save you so much time and stress later on!
#3: Set Up Systems
End of year reflections for teachers are so helpful in determining which systems you can implement to make your life easier, your instruction more effective, and your classroom run smoother.
This might be a classroom management system such as whole group reward puzzles or a better system for collecting your students' work when they turn it in. Think about the areas of your math block that don't feel streamlined and use this time to set up systems to improve them!
Another important system you may want to set up over the summer is a system to make assessing your students quick and easy, right from the beginning of the year.
ESGI is my all-time favorite assessment tool that will help you get a baseline of where your students are at with their skills, progress monitor them throughout the year, and make data-driven decisions.
You can choose from over 1,000 pre-made assessments (or make your own) to get real-time data and reports on your students' skill level and progress.
ESGI is great for helping you form small groups, provide individualized instruction, document progress, and communicate with parents. You can try ESGI for FREE on trial by clicking here and using the code SADDLEUP!
Learn more about getting started with ESGI in this blog post.
#4: Get Support
Lastly, you can use your teacher reflections to seek support to encourage your growth as a teacher. Connect with other teachers like you who are also looking to grow as math teachers. Brainstorm together, share ideas, collaborate, ask questions, and problem-solve together.
My Saddle Up For 2nd Grade Teachers Facebook Group is an amazing community of other 2nd grade teachers all looking to become better teachers for their students.
You can also seek out support from other teachers in your school, district, or on your teaching team. Get together to chat about new strategies, prep materials together, and help each other learn new systems, like ESGI.
Nobody understands the unique challenges and duties of a teacher quite like another teacher does. Having supportive teachers in your community not only makes teaching more fun, but also encourages growth as a teacher, and vice versa for them.
I hope these ideas for taking action on your end of the year teacher reflections have inspired you to try new things and get organized before next school year.
I'm always here to help and support teachers like you in growing as teachers, especially in your math instruction. Feel free to leave a comment below or reach out anytime on Instagram or Facebook if you need help or have any questions!