I truly believe the best way to teach math is through hands-on learning opportunities! Not only is it fun and engaging, but it's also a proven learning method for students. There are so many amazing math manipulatives out there that you can incorporate into your teaching, but keeping them all organized is a whole different ball game, because with hands-on learning comes a lot of STUFF. There's dice, cubes, counters, money, clocks, and the list goes on!
Let's be honest, as teachers, we tend to be somewhat of hoarders and we love pretty, colorful, neatly labeled things in our classrooms. There's absolutely nothing wrong with that, but the question then becomes "Where do I put it all?" "How do I organize all of my math manipulatives in the classroom?"
If this is you, then read on, because I'm sharing 4 easy ideas for organizing math manipulatives in the classroom so you and your students can easily find and access everything you need to make learning fun and hands-on!
This post contains affiliate links. You can see my disclosure here.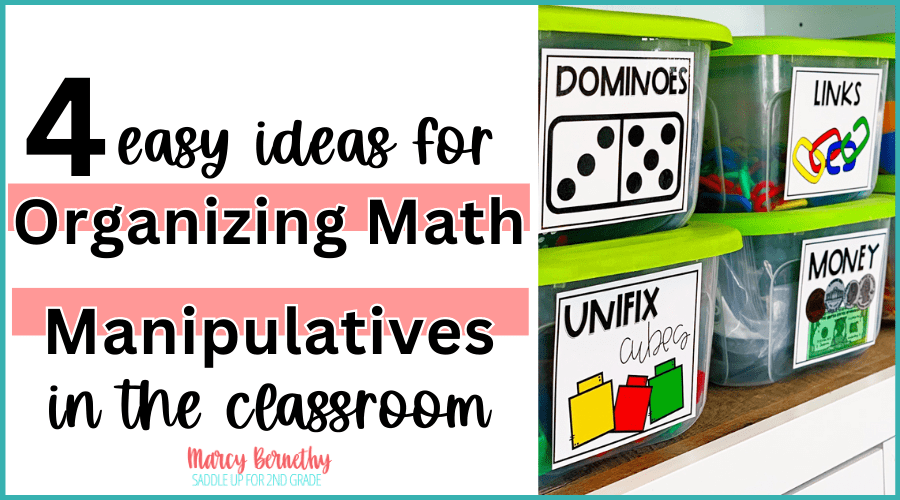 4 Ideas for Organizing Math Manipulatives
When it comes to keeping your manipulatives in the classroom organized, it does NOT have to be a complicated system. In fact, it shouldn't be! The goal is for you and your students to know exactly where to find the manipulatives quickly so you can get started using them and learning right away.
1. Plastic Shoe Box Containers
I always suggest to keep each manipulative or "math tool" separate and not mix them together. This makes them so much easier to label and find quickly when you are in a hurry.
Transparent plastic shoe box containers that students can see into are perfect for any age! Don't be afraid to grab these at your local dollar store or you can grab this 20 pack here on Amazon!
Once you have your math manipulatives organized, you can label them with these math manipulative labels for an added visual aid for your students.
2. Storage Drawer Cart
This rolling storage drawer cart is one of my FAVORITE organization tools EVER! Not only is it super handy for organizing math manipulatives, but the bright colors just make me smile! It's perfect for keeping your math manipulatives perfectly stored and organized.
Just make sure each drawer has it's own label so that you aren't trying to pull every drawer out just to find one item!
3. Individual Size Cups
Small baby food containers also work great for organizing individual sets of math manipulatives, such as coins, place value discs, or mini erasers.
Check out my blog post here where I show you exactly how I use these storage containers to keep my money manipulatives organized for various games and small group activities! Plus, if you already have these laying around your house, they're a super cost-effective option.
4. Math Manipulative Tubs
Several years ago, I started using math manipulative tubs in my classroom to keep my students' math manipulatives organized and readily available at all times! If you've never used them before, they are a GAME CHANGER and can help you save a ton of time during your math block!
Essentially, they are a clear plastic shoebox container like I mentioned above, but they tend to hold more than one manipulative inside. For organizational purposes, each manipulative is stored inside a zipper top bag before being placed inside the math tub.
I like to include a label inside the math tub so students know exactly how many of each manipulative they should have at all times. You can grab this FREE math tub label by filling out the form below and it'll be delivered right to your inbox!
Labels for Math Manipulatives
As you can see, there are several easy, affordable options for organizing math manipulatives in your classroom. The main thing to keep in mind is that whichever system you choose to implement when organizing math manipulatives, the most important thing is to keep everything labeled clearly so everyone can find what they're looking for!
You can find my math manipulative labels and other classroom supply labels below!