I just returned from the TPT conference in Las Vegas and must confess that it was one of the BEST weeks of my life. I'm still in shock that it happened and I'm blown away by the people I got the meet and what I learned. I'm linking up with
A Burst of First
to share my experience with everyone! Get ready for a picture overload!!!
Let's start from the beginning shall we! A few days before I left for the conference, I think I can speak or all when I say I was running around with my head cut off and trying to get everything together. Here is a shot of my binder filled with all of my conference hand outs. I may or may not have bought that cute cowgirl clip art from Melonheaz just for this binder cover! #clipartaddict
I put together these cute little gifts for my roomies. They each got a mason jar glass with their blog name on one side and "Keep Calm and TPT On" on the other side. Inside it was filled with Jamberry goodies!
I had been to Vegas before but this time I was a nervous wreck. I was flying across the country to stay in one of the nicest hotels in Las Vegas with three girls I had never met before. It was by far one of the craziest things this Texas girl has ever done. When we finally met, it was like I had known them for years. Let me introduce to my sweet roommates! Going from left to right…
A few days before we left the conference we were all texting each other in a group message. We were talking about how excited we were, what we were going to wear and people we couldn't wait to meet. THEN, I learned what OOFDA means!!! It all started on Tuesday and I was headed to Dallas to catch my flight the next day. I'm so ashamed to admit that I was texting and driving. I normally do not do that at all but when you see how funny this conversation is, I hope you won't judge to much! Anyways, I'm driving along and sweet Angie used the word OOFDA and I had no idea what it meant!!! Here is a sneak peak at our conversation!
I couldn't get the entire conversation in but I think you get the point. This lead to a week long process of trying to use the word OOFDA right and them giving me a hard time for saying YA'LL 5,000 times a day! HA!
Here I am at the airport the next day. EKKKKK! I was so nervous here!
We stayed at the fabulous Venetian Hotel and Casino. I've never been in anything this fancy in my entire life. It was absolutely beautiful. Here is what you see when you first walk into the hotel.

We stayed in a suite and it was so pretty. Again, I had never stayed in anything so nice before.
On Wednesday night Ashley, Angie and I (Dixie didn't arrive until Thursday) attended the blogger meet up hosted by the Blog Hoppin' gals! We came a day early just to attend this meet up. There were over 600 fabulous bloggers at this event. Talk about over whelming!
Pics from left to right. The first picture is me and my sweet roomies!
Then I got to meet sweet Carol from The Super Sparkly Teacher.
Jessica from 1st Grade Nest is the sweetest thing.
The last picture is the best group of ladies. I spent most of my time during the week with them. We have Ashley from Schroeder Shenanigans in 2nd, Carol from The Super Sparkly Teacher, Sarah from A Rocky Top Teacher, Nicole from All Things Apple in 2nd, me, then Angie from Lucky Little Learners.
I also got to meet some of my teaching inspirations. These fabulous bloggers need no introduction. Pictures go left to right. April from a Modern Teacher approached ME and said "you're a fellow Red Raider right?" My jaw almost dropped to the ground. YES, I'm a fellow Red Raider. We chatted awhile about our time spent at Texas Tech. She is a doll.
The next photo is my roomies and I with Mr. Mustache himself, Greg from Kindergarten Smorgasboard. We were so nervous to meet him. I think Angie, Ashley and I argued for a good 5 minutes about who was going to ask him for a picture. I eventually stepped up to the plate and asked!
Then there is Sarah Kirby from Permanently Primary. My best friends name is Sarah Kirby too! We chatted for a while and she is just the sweetest. I really wish I could have seen her present at the SDE conference. Next year right?!?
Last but not least, the lady who paved the way for us all, THE Deanna Jump from Mrs. Jumps Class! Her story is amazing and I couldn't have been more blessed to meet her. She is such an inspiration.
The next day Ashley, Angie and I explored the Venetian while we waited for Dixie to arrive. This is INSIDE the hotel! We at brunch in "Venice" and chatted about all sorts of things. It was so nice to talk to others about blogging, clip art, TPT ideas and so much more!
That night after Dixie arrived. We met up with Cassandra from
Mrs. 3rd Grade
. I've stalked her for awhile on IG and was so glad we were able to meet up. We then went to the Rock of Ages show and it was AWESOME!
The next day was the big day. The day we had all been waiting 6 months for. TPT CONFERENCE DAY!!!
It started out with the Keynote and it was beyond inspiring. It almost brought me to tears. Literally! Amy, Paul and Deanna all spoke.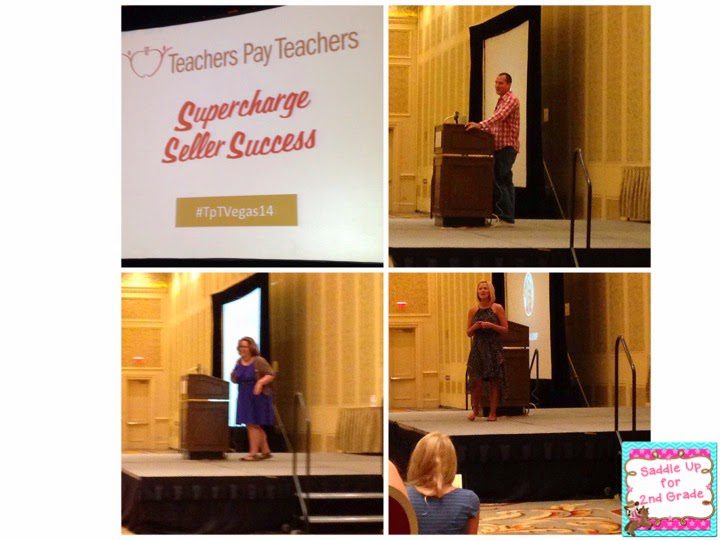 In the words of Deanna Jump.
"For every cha-ching you hear, that's a teacher who believes in your work."

"Success doesn't just come and find you, you have to go out and get it."

"Lord, if you show me the way, I will do the work."
If that doesn't give you goosebumps then I don't know what will folks!
I attended some awesome sessions. I'm going to share what I learned in another post so look for that later this week. Do your recognize any of these AMAZING people?
My roomies and I with Mel D from Seusstastic! She is just as awesome in person as she appears on her blog! I just love her and can't wait to share all things pinterest that I learned! PINCH ME MOMENT!
Pinch me! Really, pinch me! Did I really meet Cara Carroll from First Grade Parade? OMG I did!!! She is hilarious and so inspiring. She said "use your own voice, be yourself, and if nobody likes you, who cares!". Love her!
After the conference we headed to happy hour with 600 other teacher friends. Here are few snap shots!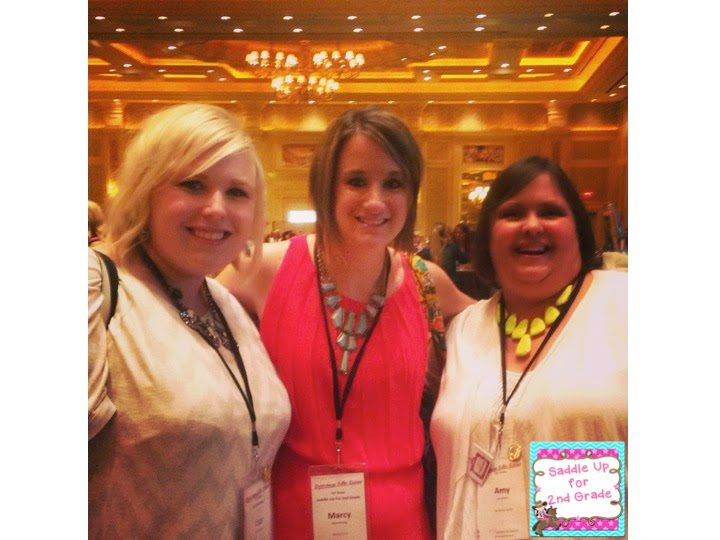 Here I am with Paul, the founder of TPT. If it wasn't for him, I wouldn't be where I am today. This man has changed my life and I am forever grateful.
The last day was spent exploring the Strip and Freemont St. with Angie and Dixie.
The next morning it was definitely hard to say goodbye to the 3 ladies I had shared a room with. I had to borrow this picture from Angie.
This trip was THE best experience of my life. Yes the conference was great but for me, but the connections and friendships I made can never be replaced. It was so nice to meet people who are in the same element as you, who are obsessed with clip art, and have the same passion for teaching as you do. I got some amazing ideas just from them. As I said in the text, it is not goodbye, it's until next time.
My head is full of ideas from what I've learned this week. Stay tuned!!!