Oh Valentine's Day! Does anyone else have a love/hate relationship with this holiday? My kiddos were wound up ALL day, then party time hit and they were so good! Fridays are our test day so after we did our spelling/math/reading comprehension tests we managed to squeeze in a little fun.
Before taking any of our tests we HAD to pass out Valentine's. I'm all about simple when it comes to making Valentine holders. This year we made a little heart boy/girl and glued him onto a white paper sack. EASY PEASY and I thought they were cute!
After we finished our testing we did some Conversation Heart Math. I've used this packet for the past 3 years. Its a simple review that the kids love. You can find it for free on TPT
here
.
We read the CUTEST story!!! I got this with a Valentine pack using my Scholastic points. You can get it here on
Amazon
!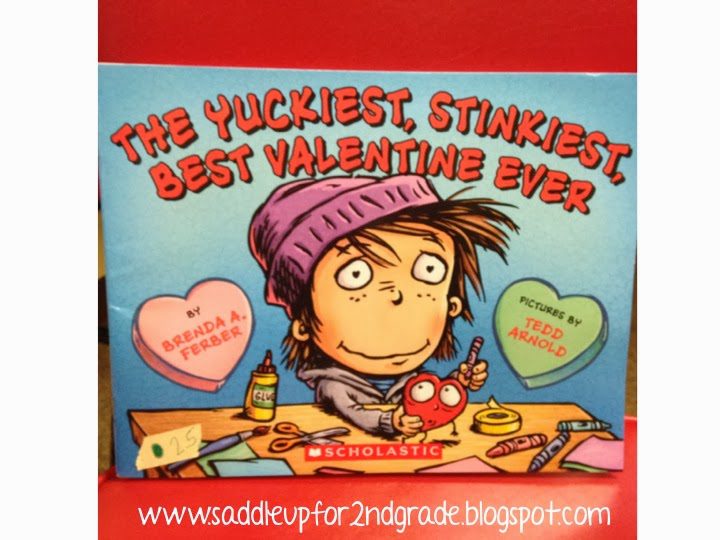 I needed some time to kill before our party started. I found these cute Valentine letters at Hobby Lobby earlier in the week and planned to put them in my word work center. We had such a messed up week due to weather that, that just didn't happen. So, I literally came up with this idea about 20 minutes before our party started and it was a HUGE hit!
I put a pack of letters into 2 containers and lid in between them. I split my class up into 2 teams. I would call out a sight word and they had to dig around in their container and find the letters to spell out the word. The first person to spell it correctly got a point for their team.
They ate this up! We will definitely play again!
Last but not least, our party time hit and I finally got to pass out my Valentine's to them that they had BEGGED me for all day. I got the cute tag from
What the Teacher Wants
and the glasses came from Hobby Lobby!
When I got home my husband and I decided to spend an electronic free evening. We grilled steaks (the weather was SO nice, and it had been super crummy all week in Texas), talked, watched a movie and just enjoyed each others company. It was super nice.
I hope everyone had a great holiday!