Only 2 1/2 more Fridays!!! WOOHOO!! I'm linking up with
Doodle Bugs Teaching
to share five things from my week!
My week started off with taking Bridal pictures! Now I can't share anything with ya'll just yet but here I am sitting down waiting for the photographer to show up. He was a little late.
We've been working super hard on area and perimeter over the last few weeks. Here's a few activities we did this week.
Find the perimeter. I taped larger shapes all over the floor. Yes, I used Halloween duct tape. It's all I had! The kids loved it though. We used yard sticks to find the perimeter of our over sized shapes!
Here we are practicing area using letters of the alphabet. I had each student make the first letter of their first name. Then we played scoot using our math journals.
Exploring area with cheez-its! I definitely scored points with this one!
For the next few weeks we are basically reviewing all the concepts we've learned over the year. We've been using my
Spring Into Literacy Centers
a lot to help us out. The girl on the right was so EXCITED! She was playing memory with synonyms and she finally got a match!
We finished up our mother's day crafts today.
We made "picture frames". I used a binder clip as the base. I had seen this idea on pinterest and knew I wanted to try it out. They weren't as cute as I wanted them to be. I brought feathers and cute jewels to decorate them. Then one of my kids spilt his water bottle over my sack and all of the feathers got ruined. (He felt terrible, it was an accident). So, we just added glitter. The concept worked though.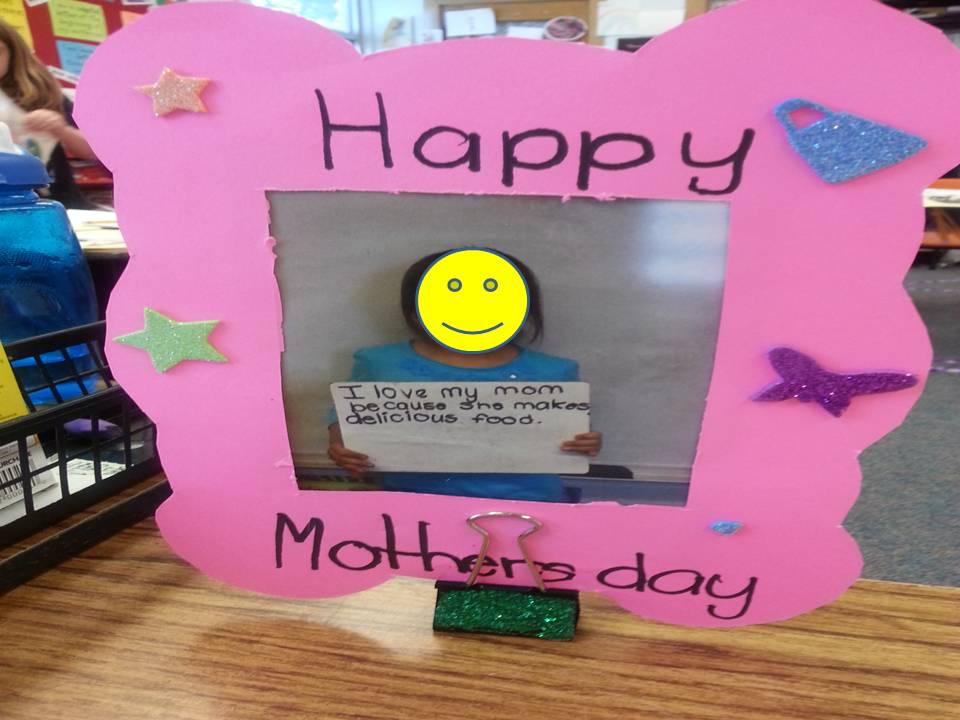 We made these cute crafts from
Amy Lemons
and
Mel D.
We are running SO low on construction paper. We had to use drawing paper but they still turned out cute.
Last but not least, it was Teacher Appreciation Week! I think my favorite thing about it was that our PTO fed us lunch or breakfast every day!
This was our gift from PTO. This tree has all of my sweeties thumb prints. It means a lot because I won't be returning next year since I'll be moving.
One of my sweeties gave me this bracelet! I just LOVE it!
There you have it! I'm off to pack (UGH…I really hate moving!) Have a good weekend everyone!
Marcy 🙂