Can you believe that Easter is just around the corner already? As a teacher, you're probably looking for simple and fun ways to keep your students engaged and practicing their math skills this time of year (especially with all of the sugar and excitement that happens around Easter!). Why not embrace the season and incorporate some versatile Easter egg math games into your lesson plans?!
All you'll need are some plastic Easter eggs from the dollar store, a few basic supplies you can find inside your classroom, and my free Easter egg math printables, which you can get access to later on in this blog post! If you're ready to fill your teacher tool belt with math Easter activities, let's dive in!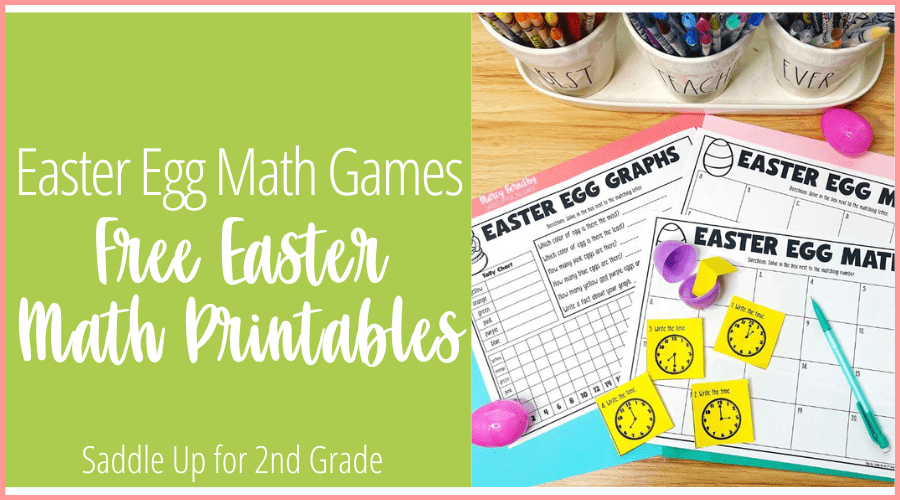 Tips for Using Math Easter Activities
Make sure you have enough Easter eggs.
Before you get started using these math Easter activities, you'll want to ensure that you have enough plastic Easter eggs for each of the activities and the number of students in your classroom. You can have your students work in partners or small groups during math stations in order to cut down on the number of eggs you need.
Use permanent marker or tape when writing on the Easter eggs.
When writing on the plastic Easter eggs, you can use a permanent marker if you want the writing to last for years to come. If you want to reuse a set of eggs for another activity or for an Easter egg hunt later on, you can write on top of Scotch tape and simply place the tape on the egg. Then all you have to do is peel off the tape when you're done.
Prep your Easter eggs ahead of time.
Another tip is to prep your Easter eggs ahead of time so you're not rushing to get them ready right when you need them. If you need to fill the Easter eggs with something or write on them for the specific activity, do so before your students arrive for the day or while they're out at recess. There's nothing more stressful than rushing to finish prepping with a classroom of little eyes on you and students that are getting impatient and off-task.
Easter Egg Math Games
Task Card Math Easter Egg Hunt
It wouldn't be Easter without a math Easter egg hunt, would it?! This Easter egg math game is one of my favorites because it's so versatile. I would bet that all teachers have a set of task cards (or several) in their classroom covering various concepts. These task cards are perfect to incorporate into a math Easter egg hunt.
First, choose your task cards and fold them up small enough to fit inside of your Easter egg. If your task cards are too big, check out my YouTube video below for a quick tutorial on how to easily print task cards on a smaller scale to fit inside of your plastic eggs. 
Hide the eggs around the room and have students go on a math Easter egg hunt. They'll find an egg, crack it open, and solve the problem on the task card. They can record their answer in their notebook or on a simple recording sheet (like the one included in the freebie at the bottom of this blog post!).
This set of telling time task cards is included in the free Easter egg math printables download and helps students practice reading an analog clock and recording the time in digital form.
Money Eggs
For this Easter egg math game, all you need is a simple recording sheet, plastic eggs, and coins.
First, label each plastic egg with either a letter or number, whichever matches your recording sheet. Then, fill the eggs with a set of coins. You can easily differentiate the types of coins and the amount of coins to meet the level of your students and the grade level you teach.
To play, students will choose an egg, dump out their coins, count the value, and record the value in the matching box on the recording sheet.
Matching Easter Egg Math Games
You can create a ton of simple math Easter egg activities by making matching games with your eggs for a variety of skills.
Subitizing
One idea is to create a subitizing Easter egg math game, which is perfect for younger learners. Draw dots, tally marks, etc, on one side of the egg and write the number on the other side.
Break the eggs apart and mix them up in a basket. Students will count and match the pictures to the correct number to complete the Easter egg. To take this one step further, have students count that many jelly beans or small beads and put them inside of the Easter egg.
Place Value
You can also create place value matching games with various multi-digit numbers. On one half, draw the number in base ten form. On the other half, write the number in number form. Students will match the eggs according to their place value.
Equivalent Fractions
Another idea for creating a matching game is to practice equivalent fractions. On each side of the eggs, write different equivalent fractions, such as ½ and 3/6. Have students match the equivalent fractions to complete the eggs. This is perfect for 3rd grade students!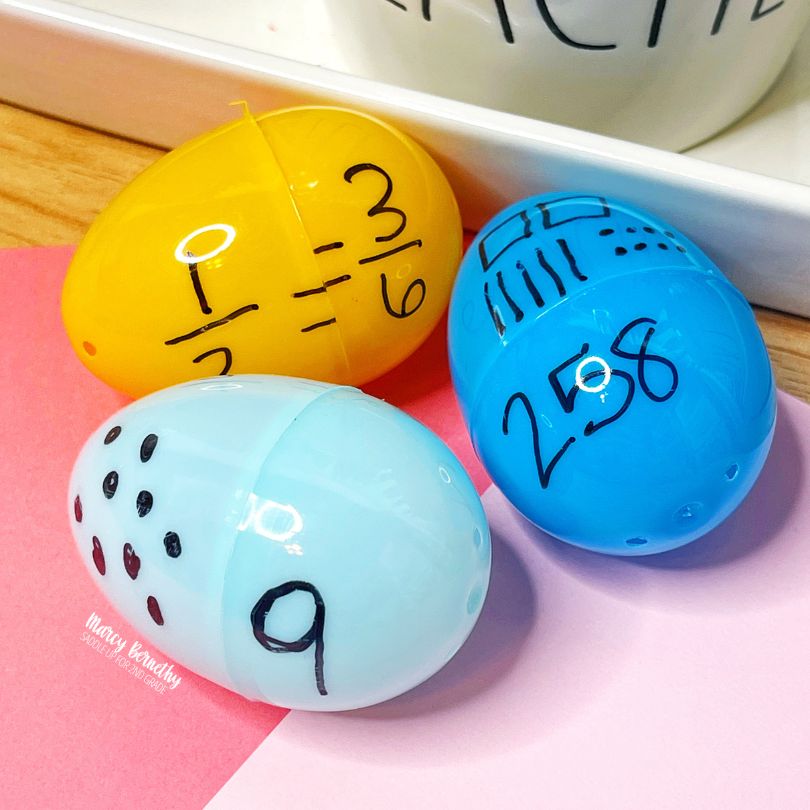 Easter Egg Graphs and Data
Easter eggs are perfect to use for math Easter activities for practicing graphs and data. First, put different colors and amounts of eggs in 4-5 different baskets at your math station.
Students will use a plain graph like the one included in the free Easter math printables to graph their eggs by color. They can practice creating a tally chart and a bar graph based on the data. After they've finished their graph, they'll answer generic questions to practice analyzing data.
Math Fact Wheel
Easter eggs are perfect for creating math fact wheels for students to practice either addition, subtraction, or multiplication facts. On one half, write the number you want them to practice with. On the other side, write +1, +2, +3, etc.
Students will spin the "wheel," AKA, one half of the egg, and solve the various math facts they create.
You can have them solve the math fact using manipulatives or write it out on a whiteboard or in a notebook to find the answer.
Easter Egg Comparing Numbers
If your students need a little extra practice with comparing numbers, you can practice this with an Easter egg math game.
Fill the Easter eggs with different numbers of jelly beans, M&MS, buttons, etc. Have students choose two Easter eggs, count the objects inside, and compare them using <, >, and = symbols on a whiteboard or simple recording sheet.
If you don't want to fill the eggs, you can simply write the numbers with a marker on the outside of the egg.
Ordering Easter Eggs
Ordering Easter eggs is a fun Easter egg math game for students to play in partners or in small groups. First, label the eggs with numbers 1-20. You can do this with larger numbers if you have more eggs on hand. Put the eggs in a basket and have students work together to order the numbers.
Easter Egg Jeopardy
Jeopardy is one of my favorite review games to play with students, and you can give it a fun twist by using Easter eggs!
Label 5 baskets with various skill categories, such as comparing and ordering numbers, math facts, place value, telling time, money, etc. You can do this for any math concept.
Fill 5 eggs per category with different questions on folded up strips of paper. Write point values on the outside of the egg, ranging from 100-500 points. Put the eggs in the appropriate baskets.
Split students into 2 teams and have them take turns choosing a category and point value and working together to solve the problems inside of the eggs, just like in Jeopardy!
Free Easter Math Printables
As promised, I have a set of FREE Easter math printables for you to use alongside these activities or any other Easter egg math games you like to use in your classroom.
In this download, you'll get a set of telling time task cards, a blank Easter egg math recording sheet with both lettered and numbered boxes as well as options for 16 and 20 questions, and the Easter Egg Graphs page with two options for scales counting by 1's and 2's.
Simply fill out the form below and it'll be sent straight to your inbox!
If you're looking for more simple and fun activities and games to play with Easter eggs, check out the ideas in this post from our Saddle Up For 2nd Grade Teachers community!
Looking for more spring-themed resources for your classroom? Check out these ideas below in my website store!
If you have any fun math Easter activities that you like to do with your students, let me know in the comments below!
Pin this post to come back to it every Easter!