Halloween is just around the corner, and what better way to embrace the spooky season than by incorporating some Halloween math centers into your instruction in your second grade classroom? I've got a sweet treat to help you do just that – my Halloween Math Centers for 2nd Grade! Read on for a sneak peek at these spooky math centers, plus grab a Halloween math FREE activity for your classroom.
Why Choose Halloween Math Centers?
Halloween is a time of excitement and anticipation for kids. By integrating Halloween-themed activities into your math center routine, you can tap into this enthusiasm to make learning even more enjoyable and memorable for your students.
Here are a few of the reasons why Halloween math centers are a fantastic addition to your second grade classroom.
You can also learn more about them on my YouTube channel below.
Engagement
Halloween math centers help increase engagement and capture students' attention. They're the perfect way to blend fun with learning, especially during the Halloween season.
Spiral Review
Halloween math centers are also perfect for spiral reviewing previously taught skills that students have learned throughout the year so far.
Variety
As teachers, we know that variety is key in the 2nd grade classroom! By incorporating a variety of spooky math activities, your students can practice various math concepts all month long. I like to mix it up by using a combination of math games, digital math activities, task cards, and printable activities, such as color by numbers.
Independence and Problem Solving
Another reason I love to choose Halloween math centers to add to my instruction in October is because they promote student independence and problem solving skills. Students work through activities at their own pace and develop teamwork skills when working with others.
What's Inside The Halloween Math Centers Resource?
The Halloween Math Centers resource for 2nd grade is jam-packed with a wide variety of activities that are sure to bring the fun while covering essential math concepts. Keep reading to get a sneak peek at each of the spooky math activities included.
Ghostly Fast Facts
To play Ghostly Fast Facts, students get a partner and each flip a ghost addition fact card at the same time. The player with the highest sum wins and keeps both cards. The player with the most cards at the end wins!
Monster Mash Word Problems
Monster Mash Word Problems is a spooky math activity to help students work on problem-solving skills. Students will lay the addition and subtraction word problem sorting mats in front of them and draw a word problem card. Once they solve, they'll determine if it is an addition or subtraction problem. They'll then record their answer on the recording sheet.
Jack-O-Shapes
In this Jack-O-Shapes Halloween math center game, students will lay the domino cards out in front of them and find the domino with the matching shape attributes. Play continues until they reach the end of the domino stack.
Spooky Finger Place Value
In Spooky Finger Place Value, students will spin the spinner and color the value on their work mat according to the base ten blocks. Then they'll write the number in the circle before repeating with a new number.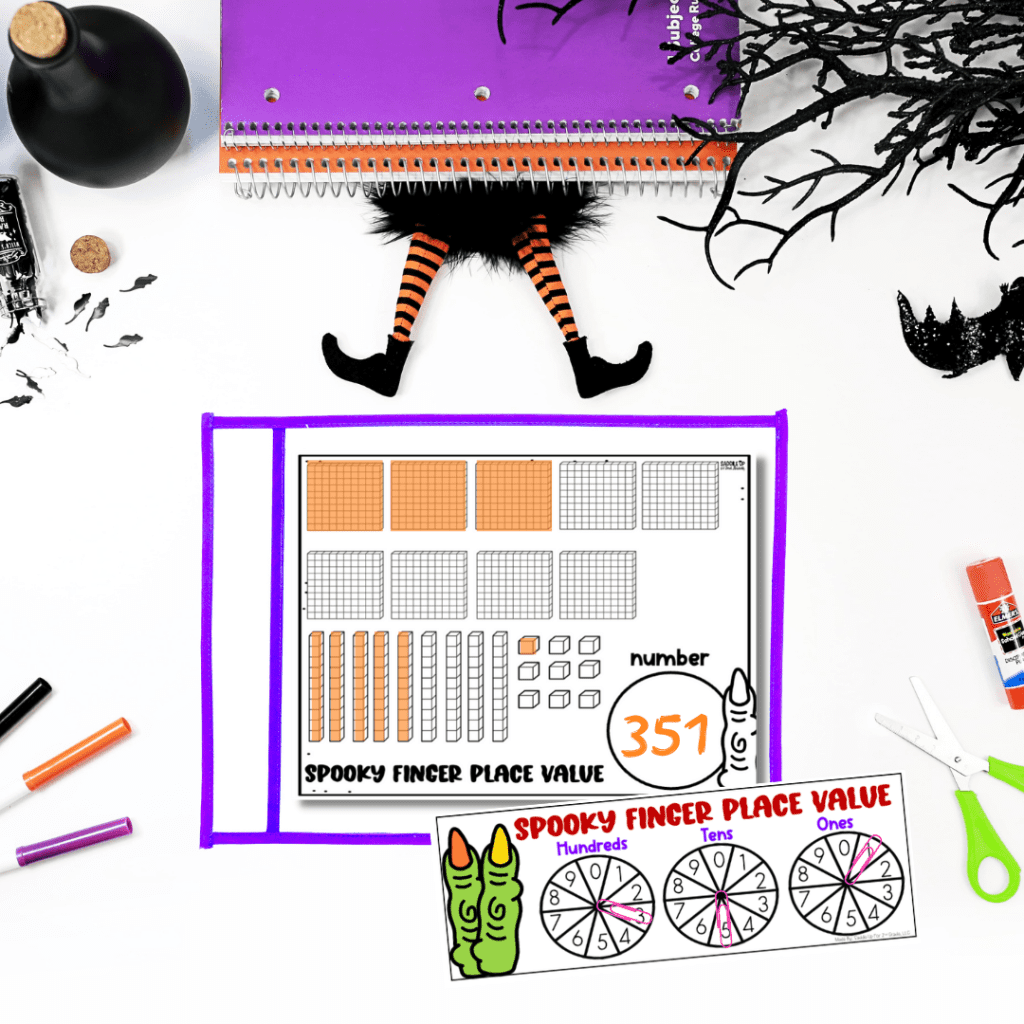 Brewing Up Subtraction Facts: Halloween Math FREE Activity
Brewing Up Subtraction Facts is a fun Halloween math FREE activity! With the true/false sorting mats in front of them, students will draw a subtraction card, find the difference, and sort the card onto the appropriate mat. If the difference is correct, it goes on the true mat. If it is not, it goes on the false mat. Students record their answers on the recording sheet.
You can try this math center activity out for free by filling out the form below. Check your inbox and it'll be delivered right away!
Gnome Time
Practicing time this Halloween season? Gnome Time is the perfect Halloween math activity! Students will mix up the time cards and place them face down. They'll draw a card, look at the digital time, and draw hands on the clock to match.
Shopping for Halloween Candy
Practicing money is always more fun when you're Shopping for Halloween Candy! Students will draw 2 candy cards from each pile. If the coins and written value match, they keep the cards. If they don't, they return them to the pile and try again.
Crawling Into Number Order
When practicing number order in October, this Crawling Into Number Order spooky math game is perfect! Students will draw 5 cards from the pile, put them in number order from either least to greatest or greatest to least, and record the numbers on their recording sheet.
Batty Comparing Numbers
In Batty Comparing Numbers, students will play with a partner. Each player will turn 3 cards over and create the largest number possible on the place value mat. Each player will write both numbers on their recording sheet and compare them using the <, >, or = symbols. They'll circle the number that is the highest. The player with the most circles wins the game!
Eye Balling Numbers
To play Eye Balling Numbers, students will take turns spinning the spinner. If they land on an "even" space, they cover an even number with a candy corn or game marker. If they land on an "odd" space, they cover an odd number. The first player to cover 5 spaces in a row wins!
Shop Spooky Math Activities
These Halloween math centers are a fantastic way to combine learning with the excitement and spookiness of Halloween!
If you are looking for a 1st grade version or digital Halloween math center activities, check out the resources below in my website store or on TPT!
I'd love to know which of these spooky math games your students would be most excited about, so leave me a comment below!