I hear from teachers frequently saying they want to implement guided math into their math block. However, they don't know where to start. They struggle with knowing how to fit it all into their schedule.
I get it! Teachers have a lot on their plates and it can seem impossible to think about trying something new.
Now more than ever, students need differentiated small group instruction. They need more opportunities to work with concepts in a hands-on way through math station activities.
It is my passion to help teachers learn how to teach the guided math framework with confidence and ease. I'm all about making teachers' lives easier, making learning more fun for students, and doing all of this without putting more planning and prep time on teachers' to-do lists.
I support teachers with their math block in a few different ways through my blog, website store, and TpT store. This is where I serve and support teachers with tips, ideas, and resources.
Alongside this, I am very passionate about professional development and giving teachers the tools they need month-after-month to be successful in their math block.
Which is where my professional development course, Managing Math Stations, and my monthly math station subscription, Maximize Your Math Block, come in!
What is Managing Math Stations?
Managing Math Stations is my online, self-paced, professional development program for teachers like you who are looking to streamline their instruction and implement guided math into your math block, without the stress and overwhelm.
This course allows me to break down guided math from the very beginning stages.
In the Managing Math Stations course, we'll cover:
Managing your math block
Creating the perfect schedule
Creating a student-centered classroom
Organizing and preparing supplies
Whole group instruction
Utilizing math warm-ups
Crafting the perfect mini-lessons
Using independent practice
Planning for and conducting small group instruction
Gathering data and using it to group students and differentiate instruction
Implementing math stations
Student accountability, and more!
Managing Math Stations is jam-packed with content, a course workbook for all of your notes, guided math resources, and a 5-week guided math launch guide, which is a step-by-step instructional tool that shows you exactly how to implement guided math effectively and confidently.
Plus, Managing Math Stations members receive access to an exclusive course Facebook Group where they can ask questions, get support, and collaborate with other teachers.
After completing Managing Math Stations, you'll receive a professional development certificate for 6 hours.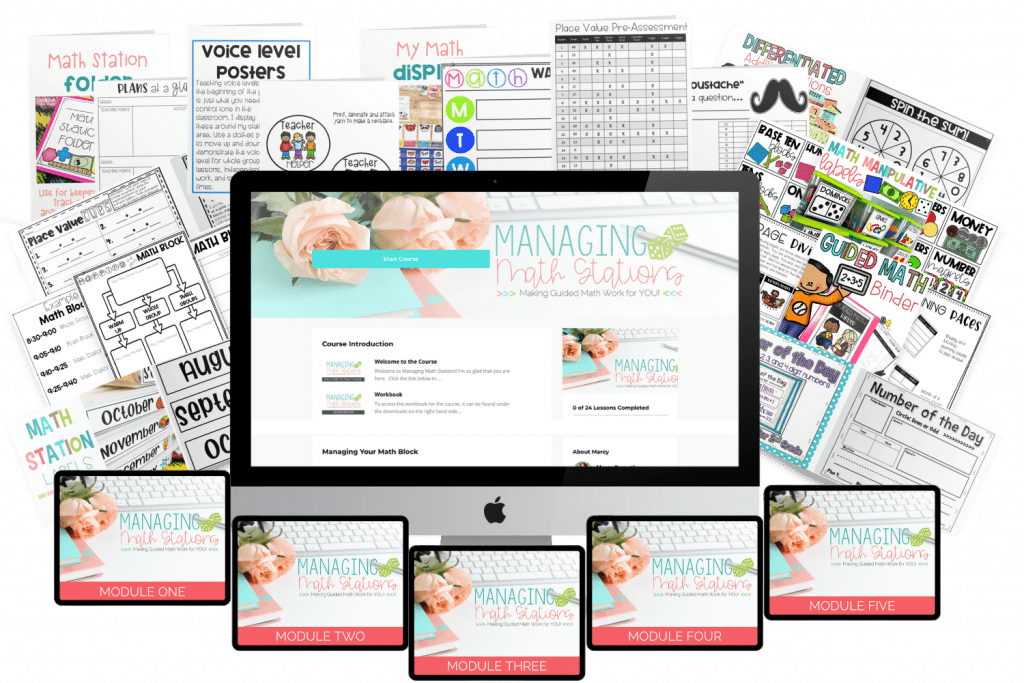 What is Maximize Your Math Block?
Maximize Your Math Block is my monthly math station subscription for 2nd grade teachers. This subscription is a budget-friendly, time-saving way to get monthly, standards-based math stations delivered straight to your inbox for each and every month of the year.
These math stations will eliminate the need to search for, plan, and prep math stations for every concept you teach. It seriously makes planning a breeze!
Each month, you'll receive anywhere from 7-15 different math stations activities and games, all aligned to standards and centered around one main concept.
Maximize Your Math Block monthly stations include:
Task cards
Partner games
QR code activities
Digital Google Slides and Seesaw activities
Boom Cards
And a monthly problem-solving activity
Here's the really cool part, if you're tired of wasting a ton of time teaching your students how to complete math station activities and play math games, I have included an instructional video for each and every activity, every single month!
All your students have to do is scan the QR code with each activity to see the instructional video, recorded by me, showing them exactly what to do, what supplies they need, and how to be successful.
These instructional videos are a game-changer and one of the many reasons to join Maximize Your Math Block. These videos allow you to focus your time on the students at your small group table.
Meanwhile, the other students can work independently and gain confidence.
Managing Math Stations vs. Maximize Your Math Block
I get a lot of questions about what the similarities and differences are between the Managing Math Stations course and the Maximize Your Math Block subscription. Let me break them down!
Similarities
Can be used with any curriculum.
Focuses on the guided math framework.
Can be implemented no matter how long your math block is.
Has a strong emphasis on small group instruction and utilizing math stations.
Provides differentiated learning opportunities for your students.
You get lifetime access to both.
Differences
Managing Math Stations is a professional development course where you learn the framework and receive 6 PD credits vs. Maximize Your Math Block is a monthly math station subscription where you receive monthly math station activities. 
Managing Math Stations comes with bonuses and resources vs.  Maximize Your Math Block comes just with your 7-15 monthly math station activities and instructional videos.
Managing Math Stations gives you access to an exclusive Facebook Group for support vs. Maximize Your Math Block does not. 
Managing Math Stations is perfect for 1st-3rd grade teachers vs. Maximize Your Math Block is available for 2nd grade teachers only at this time. 
I hope this has helped break down the similarities and differences between Managing Math Stations and Maximize Your Math Block!
If you are ready to transform your math block and feel confident about your math instruction, I highly recommend checking out Managing Math Stations!
Needing to take math station planning off your plate? Check out Maximize Your Math Block!
Pin the image below so you can save this post for later!