Who doesn't LOVE pinterest?!? I would have never found TPT if it wasn't for that fabulous website!
Diving into Learning
is hosting a pinterst linky with inspired pins we'd like to recreate. I am LOVING this idea! Here a few things I've found lately that I find so "pinteresting"!
I love this idea! Take a piece of card stock, place a plastic sleeve around it and use super cute duct tape to seal it! It makes a super cute mobile "whiteboard"! I just plastic sleeves for dry erase a lot. Also..did you know that you can write on desks with dry erase and it'll come off?!? Check out my post
here
to read more about it!
I really like this idea to check for comprehension. I'm going to implement it next year.
Seriously?!? How cute are these?!?!
We review punctuation EVERY day and some of my kids still forget to put periods. These "punctuation super heros" sneak in while the kids are out of the room to correct their paper!
I teach 2nd grade so this is perfect for beginning of the year review and to help master those math facts. These zip lock baggies are on my shopping list. I have a few struggling students who I think this would really help.
If you're a crafter like me, you'll definitely appreciate this!
Now it's your turn! What pinterest inspirations have you found/created lately? Head on over to
Diving into Learning's Blog
to check out some other great ideas!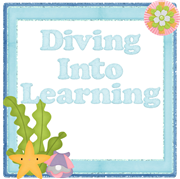 If you'd like to follow me on pinterest, click here!
Marcy 🙂